"Die Welt verdichtet sich zu einem einzigen schönen Verlangen." @ März 2022, Opernwelt
"Nur diejenige, die diese Verdichtung auslöst, entzieht sich wieder einmal dem Zugriff: Tora Augestad ist nicht zu fassen. Aber so ist das eben mit Engeln, die singen."
You can read the hole review in German here.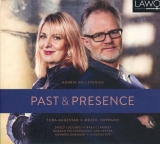 Follow Tora Augestad to Spotify and watch Music for a While's album release concert "Essays" at Music Traveler TV here.